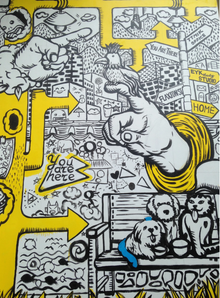 Simon and Martina opened the You Are Here Cafe with the youtube channel, Talk to Me In Korean in Korea. It was created to meet other fans of Eat Your Kimchi, Kpop, and practice Korean in a comfortable environment.
Due to difficulties with the move to Japan, Simon and Martina stopped taking part in the cafe.
Speakers Corner was filmed in the Cafe! Several guest appearances have appeared in some of their videos.
Martina's recipes were used in the food served in the cafe.
Several Eat Your Kimchi Live Streams have been filmed here.